Best Places to Visit in Goa
If you see Goa as a hippie place with beaches, low-priced alcohol and bikinis, that means you have not been to Goa or have not explored this beautiful state properly. Goa is a beautiful place of thrill, fun and adventure that is too hard to resist, with Its spectacular beaches, colorful flea markets, dining options, historic places, adventurous water sports, clubs and pubs. Goa is the most loved tourist spot among Indian tourists and people from all over the world love to visit Goa. Goa has plenty of places to offer to make holidays special and beautiful of every tourist who come to spend their holiday to make it memorable and fun. Here in this blog we will know the best places to visit in Goa, where tourists easily can explore without any clutter and make every second of their vacation unforgettable.
1.  Dona Paula:
Dona Paula is one of the most romantic beaches of Goa also known as 'Lover's Parsdise' , which attracts many tourists throughout the year, Dona Paula beach is situated at the confluence of two very known and important rivers of Goa, River Mandovi and River Zuari and is famous for many water sport activities, Jet Ski is very famous water sport here. There are also many vendors with sea side goods which are sold at very reasonable rates ,This beautiful beach is named after Dona Paula De Menezes daughter of viceroy in Colonial India it is believed that Dona Paula had jumped off from the cliff for not letting her get married to a poor local fisherman Gaspar Dias, there are many tales attached to this beach. Dona Paula Beach is popular among the top visiting tourist spots in Goa.
2. Miramar Beach:
Miramar beach is one of the top visiting places in Goa , it is the longest beach in Goa it stretches over 2km offering beautiful Oceanic views. Miramar beach was known as 'Porte de Gaspar Dias' in the past during the rule of Portuguese later the name was changed to Miramar which means 'to look at the sea'. Miramar beach is a perfect place for adventure lovers, as it offers number of watersport activities which includes boat rides and dolphin-spotting. The silver sand is encircled by refreshing aromatic blue oceanic waves on one side, and a beautiful fresh string of palm trees lying on the other. Miramar beach is a perfect for picnics ,family vacations and honeymoons.
3. Fontainhas:
Portuguese have strong influence on Goa and Fontainhas is a proof for that, Fontainhas was founded in 18th century initially used coconut plantation later it was modelled into a residential area for Portuguese Administrative and rulers in the past during the rule of Portuguese. Fontainhas is known as Goa's Latin Quarter which located in Panjim.
Fontainhas stands as a reminder of Portuguese residual with bright colorful houses ,cute cafés ,bakeries and cottages with artistic doors ,red roofs and overhead balconies, the houses are painted every year here as per the rule of Portuguese which people still follow. Fontainhas is a perfect place for people who love photography as the street of Fontainhas is very photogenic. Fontainhas is one of the most visiting places in Goa.
4. Mary Immaculate Church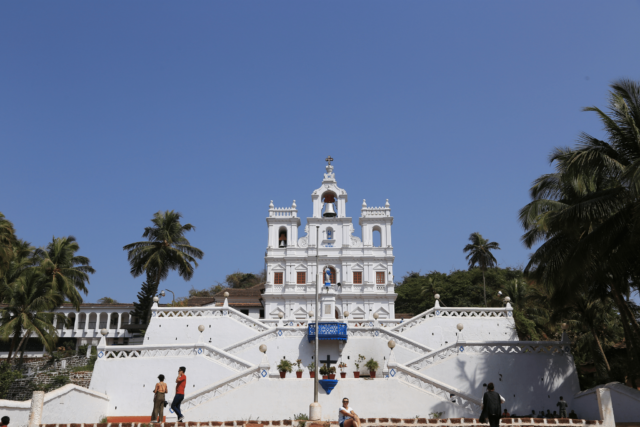 Mary Immaculate Church also known "Our Lady of the Immaculate Conception" , this majestic church stands proudly on hillock since 15 century and was built during the rule of Portuguese, it is one of the oldest church and is a home to second largest bell in Goa, has double flight of stairs zigzagging to the hilltop, you can enjoy the beautiful view of Sunset from here. The church is painted in white as it is dedicated to blessed virgin Mary, the feast of 'Our Lady of the Immaculate Conception' is celebrated with a great pomp on 8th December every year. You can also take pictures on the stairs and sit on it especially during the night time and enjoy the colorful view of panjim city.
5. Goa State Museum
Goa State Museum is one of the most famous top visiting places in Goa which is situated at Adil Shah`s Palace Panjim. The museum was established in the year 1977 and is also known as State Archeological Museum, Goa State Museum has over 8000 artifacts like the stone sculptures, paintings , wooden objects, rare coins, manuscripts, bronzes, carvings etc.. There are also many departments that includes Ancient History, Art, Craft, Geology etc… Goa state museum has over 14 galleries which are divided into many categories like, Goa through Ages, Glimpses of Goan Culture, The Portuguese Phase, and Goa Freedom Struggle. Goa State Museum is the best place for people who love to know about the ancient history.
6. Gyan Setu:
Gyan Setu is recently built small walk cable bridge where people can take a walk and there are seats so that you can seat enjoy the beautiful view of the surrounding and the tower in the center you can also visit the Central Library Of Goa as it next to Gyan Setu. Gyan Setu looks very beautiful and attractive during the night time as the bridge is lightened up.
7. St. Cathedral Church
St. Cathedral Church was built in 16th century and took 80 years complete, it is one of the largest Church in the world and is beautifully constructed with lot of dedication and hard work which has a giant bell also known as 'Golden Bell' which has a very rich sound, it has a west square courtyard with neatly trimmed grass and flight of steps and wonderful artwork on the doors and the interior. The place is really cool, calm, peaceful and is filled with positivity St. Cathedral Church is one of the top visiting places in Goa.
8. Basilica of Bom Jesus
Basilica Bom Jesus is a very famous top visiting place in Goa which is well known not only in India but all over the world. Basilica Bom Jesus Church is one of the oldest churches of Goa which was built in 15th century and is located in Old Goa few km away from Panjim, this huge monument holds the relic of St. Francis Xavier who is also known as 'Goencho Saib' the relic of St. Francis Xavier is still in a good condition even after 400 years and is placed in a silver casket and is displayed in public after every 10 years from the month of November to December. Basilica Of Bom Jesus Church is very crowded in these two months as people from all over India and all over the world come to give a visit to this magnificent place, you can attend mass here which is done in various languages. There is a beautiful garden where you can sit and spend some quality time with your loved ones, the feast of St. Xavier is celebrated on 3rd December with a great pomp all over Goa.
9. Viceroy Arch
Viceroy Arch is another most visiting place in Goa, it is located near Candolim Beach and is made up of laterite stones in the year 1599 by Viceroy Francisco Da Gama in the memory of accomplishments of his grandfather Vasco Da Gama and it served as main entrance for Old Goa in the past. The third tire of the monument was removed during the renovation of this great monument after it had collapsed and the bronze statue was transferred into the museum. There is a statue of a crowned women in the back of the archway which symbolizes Christian Victory. The statue was part of a tradition the viceroys after taking over their offices, used to make procession under this magnificent arch where they used to be offered the ceremonial key in the past.
10. Mangueshi Temple
The Mangueshi Temple is located in Ponda and is worth visiting the temple, this beautiful is well recognized only in Goa. The Mangueshi Temple is dedicated Lord Mangueshi which is a form of Lord Shiva, the temple should be visited in the month of November to February as the climate is very pleasant this time,Tourists must visit the Mungueshi Temple during Magha Purnima festival. On the day of the festival a chariot procession also known as rath yatra is taken out, deity is well decorated in royal garbs and taken around the village this royal procession is worth viewing, a large number of pilgrims , devotees and locals gather around to watch the grand procession going throughout the village.
12. Shantadurga Temple:
Shantadurga Temple was built in 1715 AD it is one of the largest temple complex in Goa and it is dedicated to Goddess Durga, she is the patron deity of the Gaud Saraswat Brahmins , the deity is a goddess who sits and meditates between Lord Vishnu and Lord shiva . The temple main highlight and attraction is the Golden Palki also called Palanquin on which the deity is placed and carried around during the Mahapanchami festival. Shantadurga Temple consists of three small temples and one main temple with a dome and pyramidal roof, Kashmir stone are used to built floors and pillars of the temples, the temple complex is situated on a slopy hill which offers a splendid view of surrounding area.
13. Dr Salim Ali Bird Sanctuary:
Dr Salim Ali Bird Sanctuary is the smallest wildlife sanctuaries in Goa, the sanctuary is named after the prominent ornithologist Dr. Salim Ali. The Doctor Salim Ali Bird Sanctuary is a beautiful paradise of bird watchers as a wide range of migratory birds are spotted here, apart from birds there are animals jackals and crocodiles, winter birds such as coots and pintails are also seen. Type of vegetation here is Mangrove Shrub, which forms an ideal ecosystem for giving refuge and breeding of different kinds of insects and fish. One should give a visit to this paradise as it is one of the top visiting places in Goa.
14. Mayem Lake:
Mayem Lake is a spectacular charming little artificial lake also known as Maya Lake which is located in Bicholim, it is about 35 Kms far from Panaji. It is a quite popular picnic spot as well as a one of the top visiting places in Goa, the popularity of Mayem Lake eventually increased because of the boating facilities you will spot some exotic migratory birds and beautiful ducks at the far end of this clam peaceful lake. There are cottages built in this area for lodging purpose, scenic surrounding and Boating are the main factor of tourist attractions in this place, Mayem lake is beautifully bounded by undulating green hills and dense green forest you will also find some vendors selling coconuts nearby the lake which makes this place even more beautiful.
15. Arvalem Cave:
Arvalem Cave is a fascinating cave which is also known as 'Caves Of Pandavas', situated near popular eponymous falls in Sanquelim, it is believed that these cold caves are carved in the 6th century there are many different mythological stories attached to this cave. According to one of the legends the name ' Cave Of Pandavas' is derived from the epic of Mahabharata, it is believed that the five Pandavas took refuge in this cave during the exile, as it has five compartments, and Shivlingas in cave complex, it is also believed that Arvalem Cave had a Buddhist origin due to the presence of the huge statue of Buddha and Buddhist architecture style. The walls of the Arvalem Caves are very plain and simple with no paintings but very beautiful and appealing ,it is a cut out rocks out of laterite stone. This beautiful historical cave attracts tourists over a very long time which makes this place as one of the most top visiting places in Goa.
16. Arvalem Waterfall:
Arvalem Waterfall is a very gorgeous waterfall also known as 'Harvalem Fall' situated in Sanquelim, Arvalem waterfall should be visited by every tourist specially during the monsoon this waterfall looks even more splendid and gorgeous, the water gushes down from the height of 100 ft and falls into the lake below. Arvalem Waterfalls offers a beautiful view of water flowing down from a great height, there are walkaway made with secured railings so that one can have enjoy the closer view of this majestic gorgeous waterfalls. There is a legend behind this waterfall it is believed that in 18th century the British colonial government settled Rajput mercenaries, famously known as Ranes. Arvalem Waterfall is listed in one of the most visiting places in Goa.
17. Tambdi Surla Temple:
Tambdi Surla Temple is a 12th Century Oldest and small Mahadev Temple situated in a remote area but is one of the top most visiting places in Goa. Tamdi Surla has a very unique architectural style which is very appealing and treat to eyes, Tambdi Surla temple is the only specimen of Kadamba -Yadava architecture, this ancient temple was built by the minister named "Hemadri" of great ruler Yadava King Ramchandra. The Tambdi Surla Temple is dedicated to Lord shiva ,the temple has pillared Mandap also known as porch ,the shrine conquered by a tower and three stepped entrances. There is a small passageway and a statue of Lord Shiva's vehicle, a headless bull which is known as Nandi which is placed in the center of the main mandap/porch. In the month of February/ March during the festival of Mahashivratri many devotees gather here and according to mythological tales locals say that the temple has an incomplete look because the Pandavas from epic of Mahabharata built the temple in hurry in a single night.
18. Safa Mosque:
Safa Mosque is the oldest Mosque in Goa as there were 27 mosques built from which most of the mosques were destroyed during the rule Portuguese luckily the Safa Mosque remained unharmed and today it stands as one of the top visiting places in Goa, it is located near Ponda KTC Bus Stand, Safa Mosque also known as Safa Masjid was built in the year 1560 during the rule powerful ruler Ali Adil Shah. Safa Masjid is a fusion of Indo-Islamic architecture with small chambered mosque which has tiled roof with flight of steps in the front , the tank of mosque is made up of laterite stones and the tank of the mosque has 44 hammams in it's four interior. On the top half of the there are double arches which are crowned beautifully with a lotus bud which makes the mosque even more beautiful. The festival of Id-Ul-Fitr and Id-Ul-Zuha is celebrated grandly here as it is venue for the locals Muslim community and Safa Masjid stands crucial structure for them.
19. Spice Plantation:
Spice Plantation is very fascinating place in Goa that one should give a visit , when you enter the plantation you will feel like you are entering an Indian Jungle, there are spices which you have never even heard about it some of the major spices which are found are Black Pepper, Nutmeg, , Cardamom Cinnamon, ,Vanilla, Chilies, Cloves, Cashew Nuts and Coriander, apart from spices there also tropical fruits grown in Spice Plantation like papaya, custard apple, pineapple, banana and citrus fruits. Many tourists visit this place to feel relaxed and find peace in nature as Spice Plantation is the one of the most top visiting places in Goa. Whenever you visit this aromatic place you will be welcomed with a glass of fresh lemon juice and one you reach the plantation you can enjoy the delicious meal the staple food of Goa .
20. Bondla Wildlife Sanctuary :
Bondla Wildlife Sanctuary is a top most visiting place in Goa which is a home to variety of Flora and Fauna which attracts hundreds of tourists from India and different part of the world throughout the year, Bondla Wildlife Sanctuary is also a home to injured animals who were and are harmed due to human wildlife conflict .There are varieties of animals you will get to see in this lovely sanctuary like Leopards, Wild Boar, Tigers, Deers, Bison, Wild Cats, Sloth Bear, Viper, Cobra sand etc.…Bondla Wildlife Sanctuary is a safest place for breeding of animals and for the animals which are going under the risk of extinction, Bondla Wildlife Sanctuary is a perfect place for school picnics and nature lovers as it has Deer Park, Rose Garden and Botanical Garden. The pleasant and soothing surroundings of this place holds within the lushy green trees and golden sunlight will not only lift your mood up but will also relax your tired minds. You can relax yourself in the arms of nature, spend some time by admiring the innocent animals , take some pictures and enjoy the adventurous wildlife safari.
21. Salaulim Dam:
Salaulim Dam lies on the River Salaulim and tributary of River Zuari , it is a very famous, very important Dam of Goa it is listed as one of the top visiting places in Goa. Salaulim Dam is the biggest Man made dam of Goa which is an integral part of Salaulim Irrigation Project that has the advantages for irrigation and water supply in Goa. This huge structure is made out of stonework and earth ,the height of the dam is around 140 ft ,the length 3294 ft with water area of 24 sq km, the water capacity of the dam is 234.361 cubic meters with storage capacity of 227.157 cubic meters about 126 cubic meters is used for irrigation and rest of the water capacity is for industrial and domestic use. About 20 villages were removed and 3000 people were relocated in order to build the dam . The best time time to visit Salaulim Dam is during the monsoon because the place looks fresh and more beautiful as the rain makes the place appear more live and scenic.
22. Palolem Beach:
Palolem Beach is the 'Southern Gem Of Goa', it is most loved beach among the tourist and is listed as one of the most visiting places in Goa. Palolem Beach is known for it's sparkling white sand, calm and peaceful environment, there are many attractions that Palolem Beach offers like the clean shoreline, a few Souvenir shops, beach shacks, the coast of the beach is beautifully surrounded by coconut and palm trees, hillocks and the main highlight of this gorgeous beach is Dolphin Spotting Cruise. There are different type of watersports activities on this beach that one can enjoy, there are no ATMs available here so you have to carry cash with you when you visit this place.
23. Agonda Beach:
Agonda Beach is a calm and a beautiful in Goa located in Canacona ,The shore of the Agonda Beach is like a velvet carpet of white sands lined up with colourful shacks ,beautifully dotted with coconut and palm trees which gives you Goan vibes. Agonda Beach is one of the cleanest in Goa. You can spend some quality time with your loved ones or alone calmly in peaceful silence and cool breeze of this beach, you will find cosy shacks here which have a warm, welcoming vibe which attracts people to enter it and relax, these colorful shacks serve a different type of original local meals along with food you choose. There are beach beds where you can comfortably lie down and relax under the big umbrellas enjoying the beautiful scenes of the beach. There are various water sports at the beach you can sign up for it even if you are a beginner there are trainers who will train you.
24. Cola Beach:
Cola Beach is a stunning hidden beach of Goa, this glorious beach is blessed with fine golden sand and lined with large volcanic boulders with a backdrop of tall hills covered with forest. The beach looks like a private property as there is no much crowd here, the view of sunsets is the best on here, every beach offers the best sunset view but the sunset views this beach offers is mind blowing due to it's gorgeous landscapes and clear water that reflects back the vibrant golden light of drowning sun. There is a beautiful river nearby called Khola so the beach is also referred as Khola beach, the river and its lagoon create a beautiful and unique landscape for this beach. There are few hotels near the beach for accommodation and there also very few shacks available here therefore the beach is very clean and serene.
25. Cabo De Rama Fort
Cabo De Rama Fort is approximately 300 year old fort which spreads approximately and it has a small church within the complex over 180,000 sqm. Cabo De Rama Fort which lies between two popular seashores Agonda and Cavelossim, it is one of the most top visiting places in Goa. The Cabo De Rama Fort's construction was started by Hindu rulers but later it was conquered by the Portuguese in 17th century after compelling Raja Sonda surrender his territory. The fort is made up of laterite rock, as you enter the fort there will be a bridge at the entrance ,there are two ponds built in fort complex during the rule of Soonda King there are also army quarters inside. During the rule Portuguese the fort was used as prison and military base for some time and later they built a church inside the complex for which the Portuguese are recognized. According to mythological tale the heroes from the epic of Ramayana Ram his wife Sita and his brother Lakshman took refuge here after years of exile from Ayodhya. You can hear the waves of the Arabian sea crashing the exterior wall of the fort from the inside during the monsoon, the fort leads you to the beautiful beach where you can indulge yourself in watersports.
26. Mobor Beach:
Mobor Beach is one of the attractive and pristine beaches of south Goa and also one of the top visiting places in Goa. Mobor beach is best place to spend a lazy day you can lie down on the sunbeds under the large umbrella there are restaurants and shacks which offer refreshing drinks , you can take a swim in cold water and indulge into watersport activities like speedboat rides, water skiing, jet skiing, bump rides, , banana boat rides , para sailing, windsurfing, or you can also go for dolphin spotting, Popular activity at Mobor Beach is biking on the beach.
27. Netravali Waterfall:
Netravali Waterfall is situated inside the Netravali Wildlife Sanctuary, to reach the waterfall you have to take 3 km trek inside the forest/sanctuary. The Netravali Waterfall is in the middle of the dense forest, you will get the beautiful view of water gushing down sharply through the thick forest and crashing down into the lake, the lake which is at the bottom is very clean you can take a swim in cool water.
28. Three Kings Church:
Three King Church is one of the most famous churches and most visiting place in Goa. Three Kings Church is situated on a hill and from there you can get a beautiful breathtaking view of whole Cansaulim village, On 6th January the fest Epiphany is celebrated with a great pomp every year.It is believed that the place is haunted , many people and the locals have experienced strange incidents , according to the tales it is said that the church was governed by three kings in the past who killed each other to conquer the church and they were buried in church site by people and it is believed that the spirits of these three kings still roam the place. The place is really very beautiful and has a perfect scenic view many Bollywood films has been shot here.
29. Madgao Heritage Walk:
Madgao heritage walk is a walking tour where you have to explore and you will get know the great induction of the history , vibrant culture and tales of this city by locals. In this walk tour you will be accompanied by a highly trained and very friendly storyteller who knows the language which you are comfortable in speaking and understanding , you will get to know the history and various stories of these places listed below by the trained storyteller: The Holy Spirit Church, A walk through Abbe Faria Road, The Old Camara, Salvador Alvares House and Massacre of Margao, A walk through Comba area with predominantly Hindu architecture and houses closely packed together, Local Bakery ( From Outside), Damodar Sal, The House of Prof Nagvekar,Samadhi of Subrai Naik and Vitthal Mandir and The House of Antonio Costa ( Current Portuguese PM ).
30. Fish Aquarium:
There are many fish aquariums in Goa one of the best aquariums is 'Abyss Marine Aquarium' which is situated in Nagoa, Verna, which has a very good collection of marine species also it is a very good and safe place for children, dangerous fishes are kept in glass tanks which are fully closed and non-dangerous fishes are also kept in glass tank but the top is kept open, the children can touch play with fishes as they not harmful. Most of the school bring students here for an excursion and it is one of the most top visiting places in Goa.
31. Ancestral Goa Museum:
Ancestral Goa Museum also known as 'Big Foot Museum',it is an open air museum which presents the glimpse of rural life of Goa. This beautiful open-air museum is located in small village called Loutolim and is privately run by an artist named Mahendra Jocelino Araujo Alvares. This museum is one of the most visiting places in Goa as it is a very famous tourist spot. There is an art gallery, various kinds of Goan artifacts, Big Foot dance floor and restaurant, sculpture of 'Sant Mirabai' which is 14 meters long which was carved by 'MJabout A Alavres' in 30 days.
32. Naval Aviation Museum:
Naval Aviation Museum is a military museum which is located in Bogmalo which few km away from Vasco, Naval Aviation Museum showcases the importance of evolution of Indian Naval Arm over many years, Naval Aviation Army is divided into two different main parts, the first part is an outdoor exhibit and the second part is two-storey indoor gallery. The Naval Aviation Museum was inaugurated in the year 1998 in the month of October, you can find here some of the vintage documents, photographs, weapons, arms and decommissioned artcrafts.
33. Ulta Pulta Museum:
Ulta Pulta Museum is a fun art gallery museum located in Dabolim which was established in the year 2017 ,the aim of Ulta Pulta Museum makers was to do something unique and how they imagined how would the world look upside down and wanted to give a try to their idea the word 'Ulta Pulta' means upside down they created an illusion that made everything in the museum is upside down even you will feel like you are walking on the wall or the ceiling of the room it is real fun museum where you can take as many picture and videos you want and create memories.
34. Bogmallo Beach:
Bogmalo Beach is a quiet and peaceful beach with rich golden sand, beautiful hills on its three side and the shore lined up with tall coconut trees, gives an iconic view of nature's beauty. Bogmalo beach is a great choice and perfect for beach lovers and for people who love getting indulged in watersport activities like jet skiing , scuba diving, windsurfing, parasailing and snorkeling. Bogmalo beach bordered with bars, nightclubs, restaurants and shacks, in the evening the Bogmalo beach turns into an exciting party hub where people dance and have fun to the fullest.
35. Atal Setu:
Atal setu is a cable bridge which carries 4 alnes of NH66 it is an important bridge as it connects Panjim to Porvorim, it was built in the year 2019 over River Mandovi therefore it is called the third Mandovi bridge , the bridge is 98 ft high and got it's name from the former Prime Minister of India Atal Bihari Vajpayee. The Atal Setu bridge was built in order to ease out and relieve the heavy traffic in Goa, two wheelers, auto and bullock carts are not permitted on this bridge. The real beauty of the bridge can only be seen at night as the lights of the bridge are switched on and the reflection of the lights in the water and sky gives a beautiful finishing look to the bridge.
36. Bambolim Beach:
Bambolim Beach is an unspoilt beach which few km away from Panjim , a perfect place to spend time with your loved ones and family. Bambolim beach is dotted with coconut and palm trees there also rocks which adds beauty to this beach, there are shacks here which offers lip-smacking Goan cuisines and refreshing drinks / cocktails, the sea is bit rough here so water activities are not much recommended here you can enjoy boating as it is quite famous activity here. You can enjoy the beautiful view of sunset by feeling the cool refreshing breeze .
37. Boat Cruise:
Boat cruise is a very mesmerizing and fun activity as it has a very good taste of Goan culture, as you are floating on water you can enjoy the beautiful scenic view of sunsets and mangroves, there is live DJ so that you dance and enjoy every second of cruising, there are complementary drinks and snacks and you will get to enjoy the performance of locals performing the Goan Folk dance.
38. Casino:
As we all know that Casino is a doppelganger of 'Las Vegas' which really gives you the feeling of 'Las Vegas',people mostly visit casino at night, because the casino looks more attractive at night .The glittery lights and beautiful decorations gives life and adds beauty to the casino at night and it attracts many tourists as it is one most visiting places in Goa ,people come here to explore and also play games,watch live performance of famous celebrities and to dine.
39. Night clubs:
Goa is considered as the party capital of India, many people from India and from the other parts of the world come to enjoy and celebrate their holiday with their loved ones, Winters is considered as the best time to visit Goa's nightclubs for clubbing and partying. The colorful neon lights and loud music will never let your feet to be in one place no matter how shy you are the music will force you to dance and have fun. Some of the famous clubs which are worth visiting and will never disappoint you are Tito's Bar and Club, LPK Waterfronts, SinQ Night Club and Club Cabana.
40. Beach shacks:
Shacks are small restaurant which you will find on beach shacks are made to make easy for people who come to the beach so that they find food and drinks without any trouble or going faraway searching for restaurants. As Goa is very much famous for its lovely breathtaking beaches, there are shacks on beaches where you can rest and enjoy the mesmerizing view of beach by enjoy the delicious food and cool refreshing drinks.
41. Arsh Global Gateway
Arsh Global Gateway is a travel company which mainly deals with holiday packages, cab service, hotel and flight booking. From being a tour operator Arsh Global gateway is also a wonderful planner, they plan customer's holiday packages very well according to the customer's need,their budget and interests, they also make sure that customers are happy and are enjoying their vacation,you can go for this company as they will never say no to their customer as they always help you from planning your package and customise it however you want and any place you want in Goa, their staffs and drivers are friendly, well behaved and quite approachable, the cars are well maintained and clean so that their customer's can enjoy the clean environment of the car.Water sports activities is something very exciting activity to do in Goa,so Arsh Global Gateway provides discount on every watersport activities and some of the adventure activities. Arsh Global Gateway will always provide the best service and won't disappoint you,so do not hesitate to choose this beautiful travel company to plan your vacation and make it unforgettable.