Srinagar
Srinagar is the most stunning and fascinating place in India. Srinagar is the largest and the capital city of Kashmir. The national surrounding of green tall trees, the green garden of Mughal Gardens, and lively houseboats make this place a paradise. Srinagar is famous for its handicraft works. The famous Pashmina Shawl is made here. Srinagar is very different from other places. People over here have friendly and humble nature towards their guests. The impressive dressing style of the locals is wonderful. It is famous for handicraft works, the beautiful pashmina Shawl, colorful print clothes, paintings, and other creative stuff are the most fantastic example of their beautiful culture. There are temples and lakes here. The lakes look magnificent at night which will force you to admire their beauty. The primary source of living for people here is farming, agriculture, and tourism.Know more about this beautiful landscape.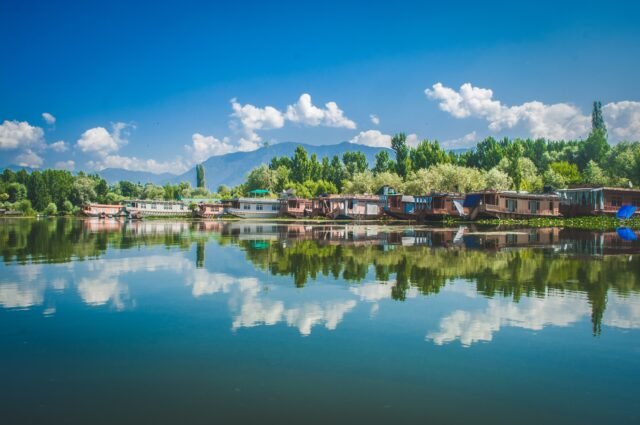 Dal Lake
Dal Lake is known as jewell oi the crown of Kashmir. This lake is one of the most attractive lakes in the state of Jammu and Kashmir.With a beautiful charming garden and pretty shrubs on the shore. There are incredible houseboats that are also ready to take guests for a wonderful journey along the lake. The beautiful exotic view of the landscape will take your soul away. It is one of the magnificent lakes in India.

Indira Gandhi Memorial Tulip Garden
Tulip garden was once called "The model floriculture center".Tulip Garden was founded in the year 2007, Tulip Garden has been made by carving out the gentle slopy ground into seven terraces. This garden is full of colorful tulips like red orange purple and mauve. There are also fresh-looking multi-colored hybrid flowers of different shapes and sizes. Each variety of flowers has its flower bed about a meter wide and 80mts long. Beyond this, on the upslope, there is a Pari Mahal who looks much like a queen that adores her feminine offspring growing up. When the flower beds are viewed from far it gives a beautiful; view like the rainbow on the earth.
Pari Mahal
Pari Mahal is also known as the palace of fairies. It is a beautiful seven terraced garden situated above the beautiful garden of Shahi Garden. Pari Mahal is also called home for angels. This significant monument sits on top of the short mountain range known as the Zabarwan range overlooking Dal lake. You can get a  magical view of beautiful flowers and exotic fruit plantations.

Nigeen Lake
Nigeen lake is connected through a narrow strait to Dal lake and is considered a part of it. This lake's name derives from the word Nagina which means jewel in the ring. This lake is well known for its crystal clear water. You can't swim here since the lake is deep and less crowded compared to Dal lake. Water skiing and sailing fiberglass boats can be done here. There are amazing shikharas and gorgeous houseboats on the lake. There are trees surrounding the lake which makes the lake look more attractive.