Magical feeling of living the moment
Celebrate Love
A wedding with no honeymoon is like a birthday with no present
Information

Tour Plan

Gallery

Additional Info

Similar Tours

Hotels
Fall in love with each other once again and spending infinite with each other every second is valuable, memorable and unforgettable days to remember full of love and compassion. hurry up and surprise your love by having romantic candle light dinner and enjoy beautiful environment of goa during your Goa Honeymoon fantasy tour. Fall in love more and more...............
What's included
Departure Location
Goa Arrival Destination - Airport/Railway station/ Bus stop
Return Location
Goa Departure Destination - Airport/Railway station/ Bus stop
Price includes
3 Star Accommodation

All Taxes included

Dinner cruise

Free Wi-Fi

Local Sightseeing

Local Transfer by A/c pvt Cab

Night on the beach

Non-Alcoholic drink on arrival

Price per person on twin sharing

Swimming Pool
Price does not include
Adventure Fee's Pay directly if Required

Lunch

Personal expenses

Personal Shopping

Tourist Place Entry if Required

Water Sport
Goa Honeymoon Fantasy
Goa Honeymoon Fantasy Make your vacation more romantic and memorable afer the beautiful journery of marriage as it is very important part of every married couples,if you are looking for a perfect romantic place to celebrate your post wedding vacation , Arsh Global gateway has a perfect plan for you with our 'Goa Honeymoon Package' make all your wishes come true and make it memorable one , celebrate your love in more special way.
Romantic evening beach view
Goa becomes ten times more attractive after the sunset, specially the beaches looks golden and marvelous and it creates a peaceful and beautiful landscape. As the sun drowns slowly into the water, the colour of the sky and water changes that creates a peaceful happy and romantic atmosphere. The beach is crowded in the evening but as it gets darker there is less crowd or sometimes no one there, as you take a walk on beach, the fresh cool breeze, the rough sound waves and cold sand will make you fall in love one with each-other deeply once again .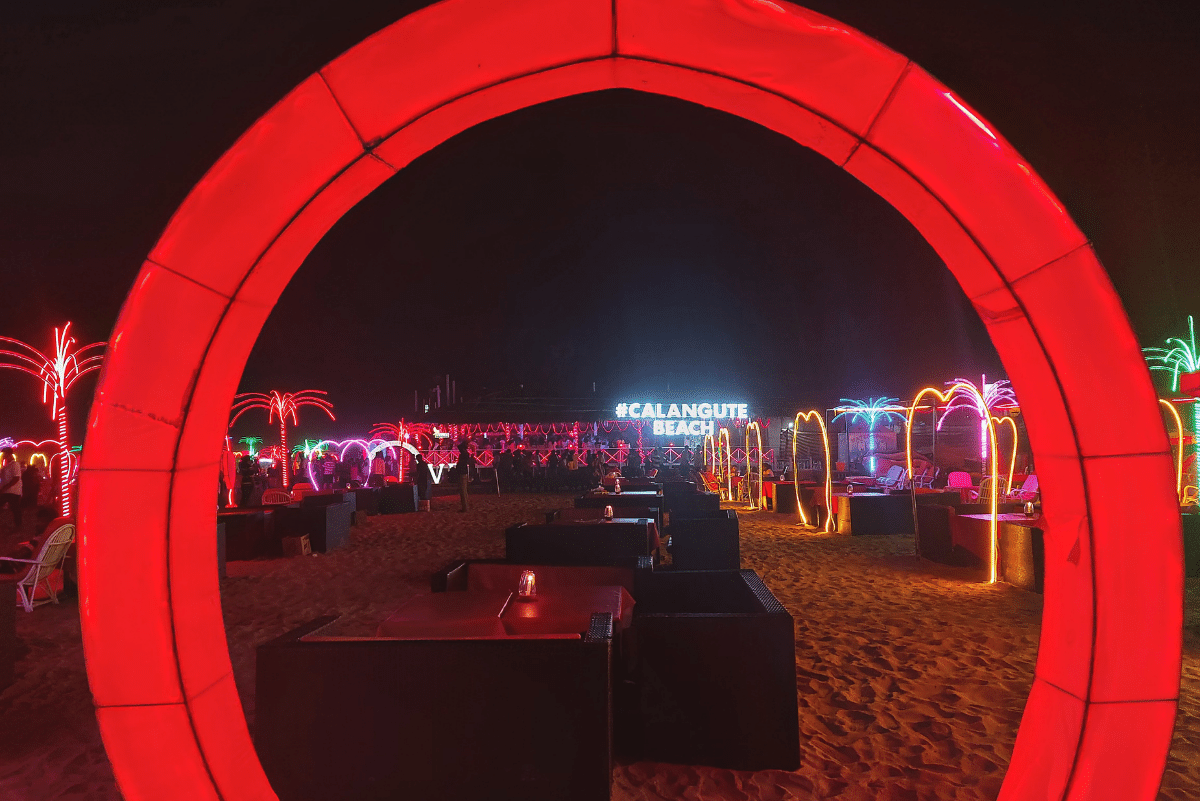 Dinner Cruise
Dinner Cruise is the only cruise which last about 2 hours as compared to other cruise, you will get see beautiful traditional folk dance of Goa performed by the people of Goa ,you will enjoy the every beat of the music and dance, eat delicious snacks and drinks with your partner. You can enjoy the romantic dinner with your partner it will be most beautiful experience of your Goa Honeymoon Fantasy Tour as you will celebrate every second of your holiday on the cruise. You can also enjoy the beautiful view of the moon and shimmery water, you can also take pictures and videos and keep it as memory with you.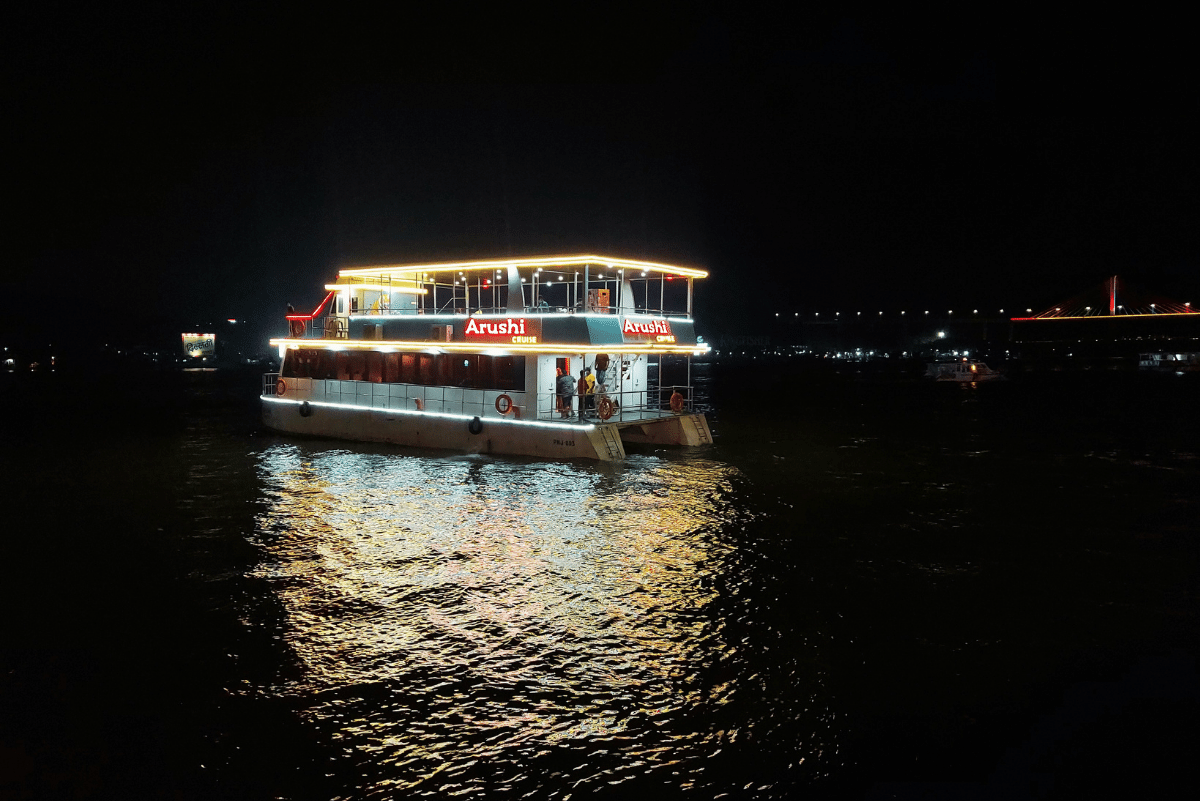 Candle Light Dinner
There are numerous places in Goa where you can enjoy candle light dinner without any disturbance and interruptions. The setup of our candle light dinner will be near the pool sight. You can re-kindle the love by building up romance to celebrate each and every second of your goa honeymoon fantasy tour package.

Flower Bed Decoration, Goa Honeymoon Fantasy
Flowers plays an important role in any decoration as it brings joy and smile on people's face. Flowers makes every ordinary things special, and creates a beautiful and romantic environment. With Goa Honeymoon Fantasy Package you make your honeymoon tour memorable, We will make your wish come true by decorating the bed with flowers the fragrance will help you to build up your romance and will force you to fall in love with each other once again..
Day 1

Day 2

Day 3

Day 4

Day 5
Day 1
Arrival & Leisure
"Today" we have transfer for resort. where we booked accommodation for you. Our cab will ready to welcome you at arrival station. After check inn, the remaining day leisure at resort. Here we enjoy Goa honeymoon Fantasy and in the evening poolside candle light dinner.
We can visit by walk to Goa's most famous Calangute Beach.
Day 2
North Goa Sightseeing
Today soon after the breakfast we will explore some of the famous place of North Goa,We will start from Chapora fort which was built in 16th century. After we have explored this place and taken pictures we will head towards the very famous fort Aguada Fort Which was a Portuguese fort in 16th century with a lighthouse. After we have done exploring this fort we visit the Sequerim beach which is situated at the lower part of Aguada Fort after visiting this beach we will visit many famous beaches like Candolim beach, Calangute beach, Baga beach, Anjuna beach, and Vagator beach . After we have visited all the beaches we will go back to hotel and rest.
Day 3
Dudhsagar Tour
Today soon after the breakfast we will head our journey to very popular place of Goa Dudhsagar Waterfall. (On the route of returning we will visit the Spice Plantation where we will get to do informative tour and we'll get Complementory Goan Traditional food. Note: This place completely optional - Rs400/-entry fees, if you do not wish to visit this place it's completely okay because we can take you to many other places. After exploring and enjoying the delicious meal we will give visit to Mangeshi temple which is one of the largest hindu temple in Goa. The temple has prominent statue of Nandi the bull which was ridden by Lord Shiva, we will explore this temple and take pictures if allowed before moving out of the temple we'll take the blessing of lord Shiva and return to the hotel and rest.
Day 4
South Tour and Dinner on Cruise
Today soon after the breakfast we will explore some of the places of South Goa firstly we will visit the Churches Basilica Bomb Jesus where relic of St. Francis Xavier the patron saint of Goa is kept in a silver casket and is displayed in public once in every ten years. The Cathedral church one of the largest church in Asia with a big Golden bell. We will explore both the Churches and take pictures and enjoy the landscape and then head towards Augustine Tower, it was a beautiful church which broke down on it's own it's a half broken church great place for photoshoot we will explore and take as many pictures as we can and then head towards Dona Paula which is also known as Lover's Paradise we will enjoy the scenic view of the beach and head towards Miramar beach then we will visit Immaculate Conception Church famously known as the Panjim church good place to take pictures. After relaxing at this place and taking pictures we will go for Dinner Cruise to enjoy the performance of local people of Goa and have fun with Dine .After enjoying every minute on cruise we will go back to hotel and rest
Day 5
Departure
Today right after breakfast we will check out of the hotel get your luggage to the cab as our cab will be ready to drop you to the nearby airport/railway station. On the way we will get to see beautiful sceneries and other beautiful places, as you head your journey to your home destination you are not going alone, you are going with a bag full of love, laughter and unforgettable memories.
More about this tour
A romantic and memorable vacation after marriage is very important part of married couples, if you are looking for a perfect romantic place to celebrate your post wedding vacation, Goa is the best place to celebrate the most special day and vacation of life. From beaches to romantic lovely places, there is something more special for you and something that you can enjoy in this very famous romantic honeymoon destination, there are plenty romantic places and plans that we offer you in this 'Goa Honeymoon Fantasy Package' just to make your vacation romantic and memorable.
De Falcon Beach Resort
Hotel Amigos
The Ocean Park Resort
Amara Grand Inn
De Grand Reviera Hotel